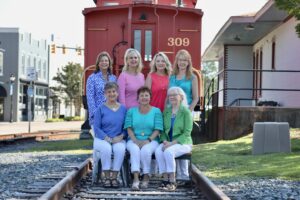 We Love Calling
Moore County Home
So if you are looking to buy or sell real estate in the Sandhills of Moore County, you want an agent who is it's well informed and who has the experience you need. At Sandhill Realty, our agents have been long time residents – the owner was born and raised in Moore County, and we have more than 141 years of combined real estate experience in the Sandhills! Moore County is a unique and exciting area that exudes Southern Charm and Hospitality. With a blend of urban hub and bucolic country settings, there is literally something for everyone. We pride ourselves on our small town atmosphere, yet we enjoy our close proximity to North Carolina's major metro cities. Raleigh, Durham & Chapel Hill, Charlotte and Greensboro are all a mere 1- 1-1/2 hours away.

But once you're here, you'll never want to leave… The Sandhills are known as the golfing capital of the state. With more than 40 golf courses, we definitely appeal to the consummate golf enthusiast and home of North Carolina's US Opens in 1999, 2005, 2014, and our next return US Open in 2024. For the non-golfers, there are numerous sports and activities to appeal to almost any interest. Our outdoor activities are as abundant as they are diverse – horse & equestrian, tennis, bowling, sports facilities, and lots of nature trails and preserves to name a few. Of course, the beautiful natural resources of our lakes are plentiful and beckons the enthusiasts for fishing, swimming, kayak, sailing and boating. Our county continues to boast a healthy economy where health services and education remain our top employers. We have an award winning Health Care Facility, with state of the art Heart and Cancer Centers. Education options abound and Moore County offers a variety of both public and private educational opportunities. We are also home to the oldest community college institution in the state – Sandhills Community College, which continues to offer a plethora of degrees, diplomas and continuing ed courses and technical training.
Patriotism is strong in Moore County with our close ties and proximity to our military base at Ft. Bragg, one of the largest military installations in the world. The bases are the perfect distance away – far enough that our residents aren't disturbed by daily training, yet close enough for a quick and easy commute. There's really not a better place to be stationed while serving in the US Military.
There's so much more to tell about our area, but the best way to convey what we know and love about Moore County is to show you first hand!
So please accept our invitation to let us show you around – we'll have you a tall glass of ice tea waiting (of course it's sweet…just like us)
WE KNOW "MOORE" – WE LOVE "MOORE" – WE SELL "MOORE"